The title of Master was given to me by the Grand master of the Japanese systems of Jujutsu that I study. I have always sought to train with the best instructors available, people who have made a big splash in the martial arts pond.
Boxing was the first system that I was introduced to, encouraged from an early age by my Mother to practice every night when I came home from school.
In 1978 I was drawn to Shotokan Karate where I found people like the great Terry O Neill inspiring.
I also attended Aikido classes held at the local Rugby club, the classes where run by Mr Terry Ezra.
At the age of 19, I started working on night club doors in the evenings to supplement my wage and gain practical experience, I met other martial artists such as Mr Garry Spires.
I started to broaden my outlook and martial arts prospective and in 1986 I became friends with a like minded soul who turned out to be one of the best training partners that I would ever meet, together we studied Taijutsu with Mr Peter Brown in Brighton and Mr David Heald of Reading, we both gained 2nd and 3rd degree black belts in each association.
In 1989 I started to study Jeet Kune Do, meeting and training with Mr Larry Hartsell who inspired me to look at close quarter combat systems.
I also attended several courses run by Mr Bob Brean in London.
As well as training on seminars with the outstanding Guru Dan Inosanto.
Then in 1991 I went on to complete a national coaching course run by the former Olympic coaching consultant Mr Tony Gummerson.
I was invited to attend a 4 day Jujutsu training camp in Leeds where I met a man who was to change my outlook on martial arts, Grandmaster Shoto Tanemura, From that seminar I became a personal student of the Grandmaster and over the following two and a half decades I became a Kyoshi level master instructor of the Takamatsu Densho schools and a 6th Dan in the KJJR system of Jujutsu.
I have attended many instructor seminars and courses in the UK, Japan, Europe, and Canada.
During my time studying in the KJJR I have also met and attended seminars run by Mr Denis Martin and Mr Marcus Wynne at CQB services.
I formed a self defence and intervention company where I worked as a subcontract consultant for Smith Kline Beecham and visited methadone clinics throughout the North West as a self defence advisor.
In 2015 I resigned from the Japanese KJJR organisation, I was by then the highest ranking instructor resident in the UK teaching Jujutsu for the KJJR.
I joined the British Combat Association and now instruct for ISSHIN DOJO PRACTICAL JUJUTSU, where I run private lessons and workshops for people who are interested inpractical martial arts and old school weapons such as quarter staff, cudgel, and single stick.
I continue to expand my knowledge of the martial arts and have attended training courses in Brazilian jujitsu and Russian Sambo wrestling.
For the past 9 years I have worked in psychiatric Hospitals and have an advanced Diploma in Health and Social Care, I have been asked to offer advice on intervention techniques including control and restraint training in some private Hospitals.
I am currently developing the (Variable Trauma System) which is a principal based on using motor nerve points as targets and a method of striking or applying pressure to those target areas in order to maximise the transfer of kinetic energy.
Kinetic energy is the energy which a body projects as a result of being in motion.
Other interests of study and development include combat callisthenics and Yoga for the martial arts.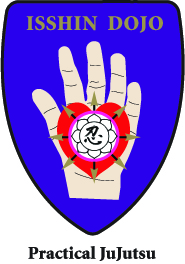 When it was suggested by a friend that I should put together an essay that covers some of the things that we talk about, or that have been mentioned in our workshops, I didn't know where to start, or which style of format to use.
What I have attempted to do is provide an overview of concepts and ideas that have been included in over 40 years of training notes and various books and training manuals recommended on the many seminars, and instructors meetings that I have attended.
Some of the things I have included may be just a phrase or an anecdote that I have found useful.
Unfortunately when I started to go through all my old notes I realised that without an actual physical representation or a three dimensional form of what is written down to show you, or perhaps a picture or two, it becomes harder to describe what the script is dealing with. This in turn would mean I would have to put together not an essay but something along the lines of an Encyclopaedia.
So in order to keep things simple I have set out to use a collage of segments taken from the various notes, each piece of the collage that makes up the following script has no specific time line, I have combined things said in the 1970s with points mentioned in the 80s-90s- or 2000nds, the only thing that separates the decades is a full stop.
Each sentence may have been originally written or spoken by a different person, what connects each section is the context, I found that it didn't matter when it was said or who said what, they all had a similar point of view that links them through time.
I have also used a list of headings that will cover commonly asked questions, some points raised will be left with no obvious conclusion or will be left open in order to be used as a talking point at our workshops.