?
How many times have you asked for a guarantee?
An assurance that certain conditions will be fulfilled or that certain things will be done.
An assurance that a product will remain in working order for a particular length of time.
Something that makes an outcome certain
Money or a valuable item given or promised as an assurance that something will be done.
Sorry to start this section with what appears at first glance to be a bit down beat.
We all know that there are few guarantees in life, the only guarantee is that it will eventually end.
We don't offer you a guarantee at the ISSHIN DOJO.
We don't fill you with false promises.
When it comes to self defence, most people only know what they've seen on TV, or you tube, or at the pictures, or read in books, that's all OK as long as you never need to defend yourself. Unfortunately a lot of the information out there is misleading.
Our Workshops Offer you the Chance to be Part of Your Own Self Defence Experience
Step by step building an understanding of what your personal self defence essentials are, know what is worth fighting for and what is not.
When starting your training at our club, we offer an introductory program, this comprises of two hours a week for the first eight weeks this can also be considered as a probationary period to see if you like the way we train.
There is no need for you to buy any special equipment or clothing you just need clothing you can move comfortably in, we would suggest that it shouldn't be your best shirt or something you are particularly fond of, due to the nature of the training the garment may not remain in the same condition as when you arrived.
We don't force you to participate in anything that you are not happy to do, there is no peer pressure if you don't like the look of something you don't do it.
If you want things explaining again just ask, we are here to help, after all you're not born with the knowledge.
During the first week we introduce you to a structured warm up and progressive stretching program. We also look at your personal fitness level and offer you one of our combat callisthenics routines that should help improve your fitness. The exercises are body weight strength training, this will help your whole body, and because you use just your own body weight you can take what you learn and do it at home.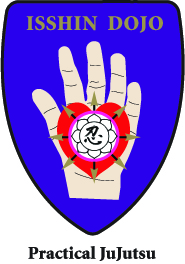 Each of our work-shops has a theme, so you get an introduction to the broad spectrum of our system each time you train, for example one week you may be looking at basic combination striking patterns, starting with bag and focus pads, with some simple combinations for upper and lower body. You may explore the myth of the so called reaction gap and come to appreciate how quickly any distance between you and a potential attacker can be gobbled up.
On other subsequent weeks you will be introduced to ground work, a practical approach to meeting the ground, and how to tactically get back on your feet. We do what we consider to be a reasonable amount of ground work, this may cover ideas of how to deal with an attacker if he manages to wrestle or throw you to the floor.
However our overall emphasis is if you find yourself on the ground for any reason, get back on your feet as soon as possible.
We look at how our natural reaction to violence can be used to facilitate an escape, or put us in a position to be able to fight back.
Depending on your own personal progression at the end of the initial eight weeks you could then be asked if you would like to join the Dojo/club.
Should you accept this opportunity you would sign up and be given a copy of the Dojo syllabus.
Think of the syllabus as a guide, a cook book for example.
This book is filled with recipes collected over years of training and taken from dog eared note books, half of their pages loose, interleaved with old scraps of paper that were at hand when one of the old masters generously agreed to disclose a secret recipe or two.
Our guide starts with a bit of basic house keeping, and health and safety.
The syllabus is set out progressively as an aid memoir.
Each of the recipes is a new skill set or tool to be used from the tool box.
You Can't Just Walk in and Join Our Club, and There are No Spectators
If you are interested all you have to do is call or Email us and leave a message, as the voice said we will get back to you for a chat.
Our workshops are held on regular days of the week, and the occasional weekend, we also run private lessons.
There are no children allowed, you must be OVER 18 years old.
When I met and trained with Mr Larry Hartsell, he mentioned that he had served as a military police man, and worked as a bodyguard, he said that he tried to keep the integrity of the martial arts styles that he studied, while using the attributes that he found useful in those arts, and applying them in his work.
We share this point of view with our training, we keep some of the traditional parts of Jujutsu alive, but always focus on how to use the patterns for real situations.
We also look at the historical background and spiritual heart of our martial art.
As we learn to be martial we must also learn to be moral.